Modular Head Shop -
Tools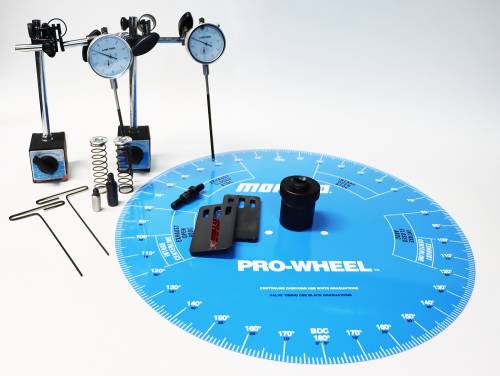 Build Recipes: Andrew's GT500, Tool
Note from Jordan:
This part of the build recipe gets complicated because all the tools I use are not available. Most of my machining tools are custom and measuring tools are not offered by small companies like Modular Head Shop. I am however, very picky when it comes to measuring tools. I prefer quality companies like Mitutoyo, Starrett and Sunnen for measuring tools.
For all tools used during Andrew's that are not available for direct purchase through us, we will simply provide a link to amazon so you can purchase the correct tools.
Block Prep Tools: During Block prep, I use 2 main tools. An 1/8" die grinder with a dremel carbide burr and a 90 Degree 1/4" Die grinder to hold a 3M Roloc Disc. Both tools and components are available through Amazon Prime. I use the die grinder to deburr all rough edges of machined finishes including the timing cover area, cylinder block deck, main saddles, oil pan rails and many more sharp spots on the block. I simply use a 45 degree chamfer when at all possible. The last thing anyone wants is to slice their hand during assembly. The 90 Degree Die Grinder with the Roloc adapter is simply to put a nice finish on all machined surfaces.
Die Grinder: Astro Pneumatic Tool 218 1/8" Pencil Type Die Grinder - 56,000RPM
Amazon Prime Link: https://amzn.to/3hbn7o4
Dremel 1/8" Carbide Burr: Dremel 9903 Tungsten Carbide Cutter
Amazon Prime Link: https://amzn.to/30qF3Fi
90 Degree Die Grinder: Ingersoll Rand 3101G Edge Series Air Angle Die Grinder, Black
Amazon Prime Link: https://amzn.to/2MJvzNx
3M 1/4" Shank to 3" Roloc Adapter Set: 3M Roloc Disc Pad Assembly, 05540, 3 in
Amazon Link: https://amzn.to/3hd6HeZ

3M Roloc Disc 25 Pack: Scotch-Brite(TM) Roloc(TM) Surface Conditioning Disc, 3 Inch, Medium, 07486
Amazon Prime Link: https://amzn.to/30uoW9I
Measuring Tools for Final Assembly: Below is a list of measuring tools I use for final assembly. I have used the same tools for quite sometime. They work very well and so I have never needed to replace them. The tools I will suggest are currrently available and while they are not the exact same as what I use, they are very comparible and high quality precision instruments.
Bore Gauges: The Dial Bore Gauge I use for final assembly is an older Sunnen model. The resolution on the dial indicator is only .0005" but there is enough room to gauge the correct number to 0.0001". This is not the case on every bore gauge and the one I use is no longer available. For that reason, the gauage listed below is my choice. This gauge has a 1 / 10 thousanths resolution for easy recording.
Mitutoyo 511-753 Bore Gage, CG-6"AX/2923SB-10 2.000" - 6.000" Range, 0.0001" Resolution
Amazon Prime Link https://amzn.to/2XP0q1y
Micrometers: The Micrometers I use are from Starrett and come in one inch increments. There are 2 separate Micrometers used for blueprinting the short block assembly. A 2-3" for main and rod journals, and a 3-4" for Piston to Wall clearances. Both feature a ratcheting thimble and a thimble lock for accurate measuring.
2.000" - 3.000" Mircometer for measuring main and rod journals: Starrett 436.1RL-3
Amazon Link: https://amzn.to/2BOHdUV
3.000" - 4.000" Micrometer for measuring piston skirt diameters: Starrett T436.1XRL-4
Amazon Link: https://amzn.to/2BRBpKu
---