Modular Head Shop -
2V Camshafts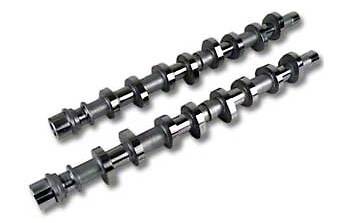 Modular Head Shop has been a leader in Camshafts for the 4.6L / 5.4L 2V Engines for quite some time now.
We know what works, we know what fits. If we state there will be no Piston to Valve clearance issues, you can be assured there will not be as long as the camshafts are degreed properly. There are many Camshaft grinds advertised that state there is no PTV issues when in fact if those Camshafts are degreed to the recommended Intake Center Line or Opening Point, there will be PTV interference.
Our GEN 2 line of Camshafts has been in the works for the last 2 years and many of these lobe profiles have been tested on in house builds and have shown some improvement over our already proven Camshaft profiles.
All of the GEN 2 Camshafts are ground specifically to our specifications from COMP CAMS. COMP offers very short lead times and we try to keep the more popular grinds in stock. However, most of the camshafts are ground to order. If you are in a hurry, please contact us for a current lead time before placing your order.
If you have any questions or need help selecting a set of Camshafts for your applications, please email us at ModHeadShop@Gmail.com
Please includes as many details as possible.
All 2V Camshafts are available for either 2V PI or 2V Trick Flow Twisted Wedge Heads. The 2V PI and 2V TFS Camshafts are not interchangable as the TFS Heads Intake Valve is not in the stock location and the Camshafts must be ground differently. Otherwise the LSA and Valve events will be very far off from the Specs and bank to bank.
If you are running standard 2V Camshafts in TFS Heads, you are losing a ton of power.
We also offer a Camshaft Degree Service which is a very good option if you are wanting to install camshafts while the engine is still in the car. It's not an easy task to do in the car. This service is also helpful for those that do not have all the proper tools or experience to degree the Camshafts properly. The Camshaft Degree Service includes OEM Ford Sprockets, Spacers, Washers and New OEM Bolts. You will also need to purchase a set of the TFS Adjustable Crankshaft Sprockets. We degree the Camshafts for you on our test engine, make the proper timing adjustments with the TFS Crank Sprockets, then drill them for 2 1/8" Hardened Steel Pins and pin them together for you. This make the install no more challenging than removing and replacing a set of stock camshafts.
Select a Sub-Category
2V Camshafts
Featured Products
Description:
It doesn't matter who ground the cam the advance/retard degree is off spec 90% of the time. We offer a complete cam degree service for those interested.
Description:
These Adjustable Crankshaft Gears allow up to +/- 8 Degrees of adjustment and are an absolute must for installing aftermarket camshafts.
Description:
Fits all Aftermarket Camshaft Cores
---