Modular Head Shop -
4V Camshafts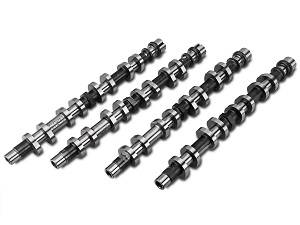 Modular Head Shop has teamed up with Comp Cams for our new line of 4V Camshafts. We have been testing these new lobes for quite some time on our in house builds and have had excellent results. All 4V Camshafts are ground from Billet Steel, Gun Drilled cores to our exact specifications.
If you have any questions or need help selecting a set of Camshafts for your applications, please email us at ModHeadShop@Gmail.com
Please includes as many details as possible.
On our .480" Lift Lobes, you should thoroughly check for lobe to camshaft cap clearance. Most 4V Heads, except for the GT500, will have lobe to camshaft cap clearance issues with the use of a larger than stock lift camshaft lobe. The clearance issue is specifically on the "Bridge" part of the cam caps. The bridge portion needs to be lightly notched. This can be done very simply with a dremel or die grinder with a fine carbide cutter.
The best way to do this is to install the camshafts into the cylinder head, without any lash adjusters or followers. Install the cam caps without any bolts and lightly spin the camshaft. If there is interference or clearance less than .010", you will need to clearance the bridge. Simply make either side of the lobe with a marker on the cam cap bridge section so you know where the material needs to be removed from.
If you do not check for clearance and try to just bolt the camshafts in, there is a good chance you will crack the camshaft cap at the bridge.
YOU DO NOT WANT THIS TO HAPPEN AS THE CAMSHAFT CAPS ONLY HAVE 2 LOCATION DOWELS PER 3 JOURNALS AND THE BRIDGE IS NECESSARY FOR GOOD CAP ALIGNMENT.
Select a Sub-Category
4V Camshafts
Featured Products
Description:
These Adjustable Crankshaft Gears allow up to +/- 8 Degrees of adjustment and are an absolute must for installing aftermarket camshafts.
---