Modular Head Shop -
Clutch Kits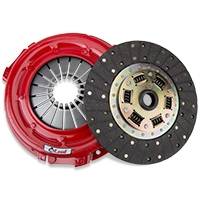 Single Disc Clutches- Much like the OEM clutch that came in the Mustangs (minus GT500s) single discs have great drivability, for stock and basic bolt on applications. The light pedal feel is a nice feature that you can expect with an aftermarket single disc clutch.
Twin / Dual Disc Clutches- Similar to the single disc clutch, aftermarket dual disc clutches have a nice and light pedal feel, although usually slightly more force than the OEM unit. Where the dual disc shines is its power and torque capacity. Different clutch companies offer different power limits based on their design, but most companies offer a configuration that is capable of clamping down on a car that makes north of 1000HP.
Triple Disc Clutches- Triple disc clutches can be street driven, but have tendencies that may be off putting. Sitting at a light, or driving low speed, you may very well hear clutch chatter and extra noise you are likely not accustomed to. But with a triple disc clutch, you can count on it to clamp down on cars making well over 1000HP, even during extreme racing conditions.
---------------------------------------------------------------------------------------
Organic vs Metallic
Organic friction materials are normally associated with a more cost effective, lower HP applications. It is perfect for the daily driver or a car that is not being raced very hard. The reason for this is that the material can overheat and it will begin to lose its ability to clamp down. Different manufacturers have max HP ratings, but most companies cap them at 500-600HP.
Metallic friction materials are what is used in your more expensive, higher HP clutches. This friction material can be street driven with ease, but also can be used to race hard at the track. Unlike the organic friction material, the metallic material is unlikely to overheat during normal driving and racing conditions. Like anything else in performance vehicles, if misused, can still become overheated. Different manufacturers have max HP ratings, but most companies use this friction material for all high HP applications, regardless of power adder.
Most companies are now making their clutch packages in a modular design. What does this mean for you? This means if you wear out or have a failure in your flywheel, friction materials, pressure plate, etc they are replaceable, if not rebuildable. If chosen wisely, the next clutch you buy could be the last clutch you buy.
Select a Sub-Category
Clutch Kits
Featured Products
Description:
For SBF with '0' balance, 157 tooth
---